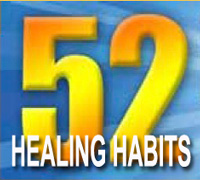 Remember when I posted about 52 Healing Habits last year
here
?
52 weeks have passed since then and finally, I finished learning all about these healthy habits compiled by Bo Sanchez.
Every week, I received an email, a few pages of explanation about it. Sometimes they also send an extra Happy Healing E-Magazine and an inspirational talk by Bo that you can listen to.


I already knew and practiced some of the habits and there are also habits that I knew but forgot to apply especially the proper food combination when eating. There are also some new to me and I'm also skeptic on some.


But honestly, there are new habits that I find hard to incorporate like
why you should drink calamansi first thing in the morning and why eat fruits for breakfast.
After a year, I finally started doing these little by little and discovered how my body reacts.
Subscribing to 52 Healing Habits is a good way of reminding me to live a healthy life and teaching me ways to achieve it. It was like someone is gently checking on you every week if you are nourishing your soul and body. It's not only about what we feed our tummy but also what we feed our mind and soul.
If you are interested in learning the 52 Healing Habits, you can click
here
to subscribe.
First 2 months of subscription is free and there is a fee of P499/mo afterwards, You can opt to stop your subscription if you want.
But why pay, you may ask. It will help support Bo's foundations so I think of it as a donation.
(Honestly, I haven't been to any of his live talk/conference/preaching. But I do read his books and I like his beliefs pertaining to health, wealth and religion)
And also, if you are one of the people like me who tend to ignore healthy advice that are given for free, then paying for it will oblige you to follow.
Heck I paid for it I might as well try it.
;p
PS: I also enjoyed reading
GodWhispers
everyday. Subscription is FREE.
Something inspirational to read in your email every morning.
Good vibes is healthy for us ^_^